Excel workbook copy protection software.
The DoneEx XCell Compiler ensures the strongest copy protection for Microsoft Excel workbooks.
The product compiles your workbook into executable application (EXE file) where all formulas are secured and converted into binary format. This binary format cannot be restored back into original Excel formulas.
We have created our own formula calculation engine. It replaces Excel's own formula calculation engine and is the only way to provide the strongest protection for all formulas in a spreadsheet. Microsoft Excel itself is used for formatting and reflection of the calculated results.
The product ensures solid security of VBA code by using complex solutions, which includes making VBA Project unviewable, obfuscating the VBA code and removing literals (such as static string values and numbers) from the VBA code. By using this solution the whole VBA project becomes securely copy protected by a simple 'Compile' button click.
You do not need to be a programmer or an expert to use the product.
With registration/license management feature you can protect your workbook from illegal copying from one computer to another by using hardware locking mechanism. You can to add your own splash screen image, icon, End User License Agreement (EULA) and do much more….
Try a free trial version of Excel Compiler!  The trial version comes complete with all  functional features for formula and VBA protection.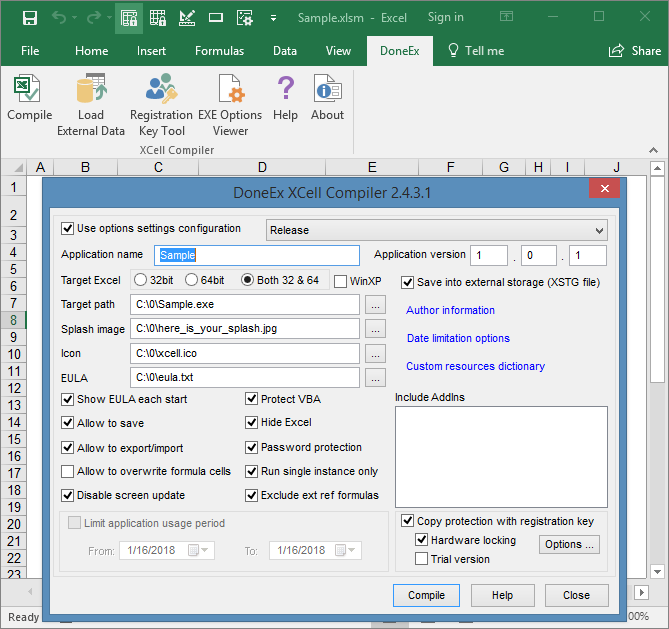 The most important benefits of using Excel Compiler software
PEACE OF MIND!
You can completely eliminate piracy of your workbook by applying copy protection.
OUR GUARANTEE!
It is impossible to restore original workbook from the compiled version.
STRONGEST POSSIBLE PROTECTION!
COMPLETE AND EASY-TO-USE PRODUCT!
You do not need to decide what formula you need to secure. All formulas will be protected after compilation.
Strong and reliable VBA code copy protection by one click. You do not need to select what piece of your VBA code you need to protect, whole VBA project will be protected.
CONTROL OVER YOUR WORKBOOKS!
Royalty free distribution for protected workbooks.
You may compile and distribute as many workbooks as you want.
Compile Excel workbooks (XLS, XLSX, XLSM, XLSB files) into an executable application – EXE file (which requires MS Excel to run).
Create Trial/Demo version of your workbook and control the number of days it may be used on a customer's computer and show trial termination warning with your content.
Use unique feature to hide MS Excel on start.
OUR EXPERIENCE AND EXPERTISE!
Our Excel Compiler has been successfully protecting Excel workbooks of many satisfied customers for MORE THAN 12 YEARS! See our testimonials.